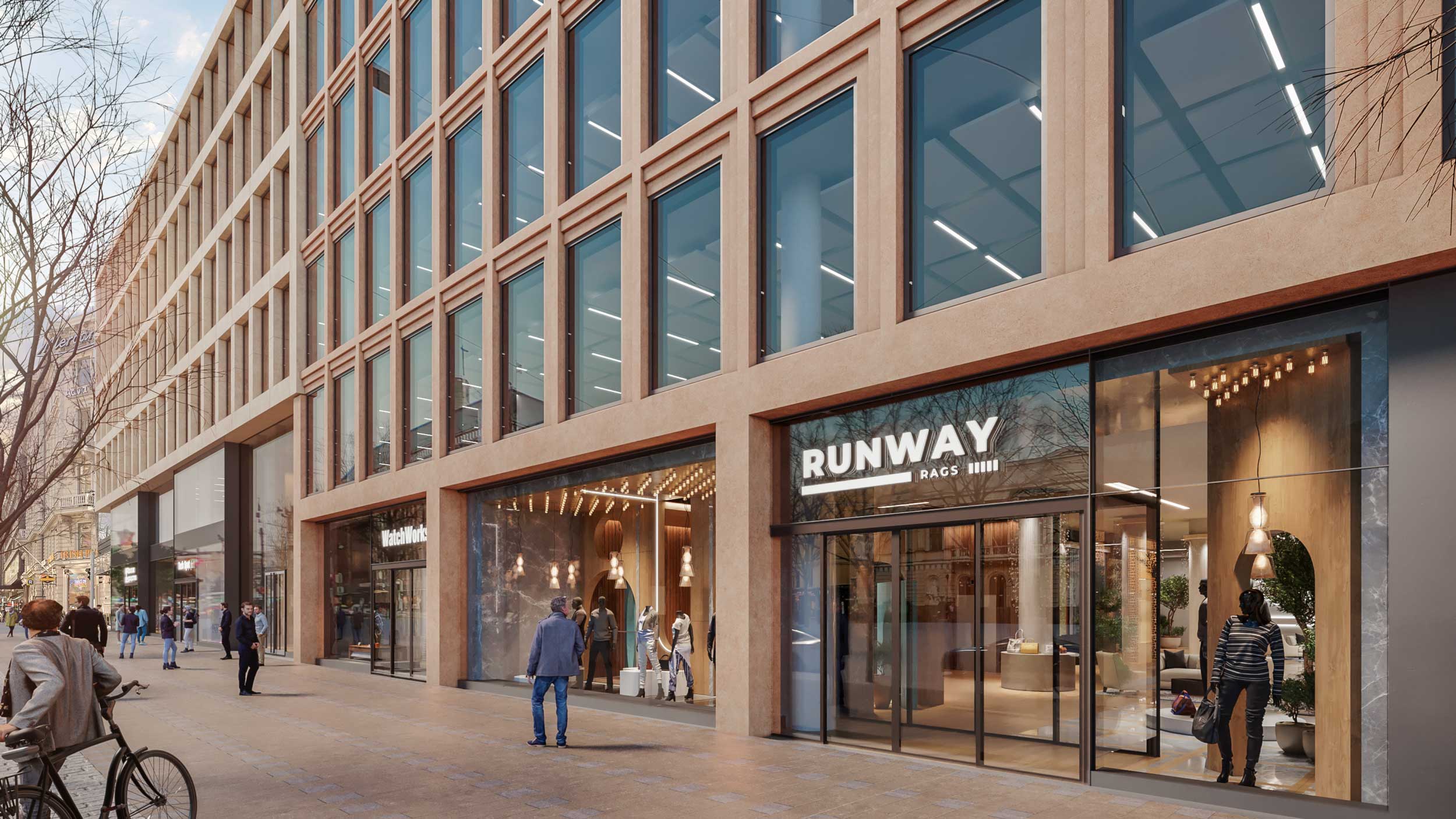 Opening the doors to innovation – Signe's spaces and services add to the appeal of the city centre
Sponda's new property Signe is shaping up to be an energy-efficient and high-quality office and retail building that invites its users to innovate and interact. Its architecture and top-grade materials will increase the attractiveness and comfort of the city's heart.
Occupying a prime location opposite the venerable Stockmann department store, Signe is a rare project for Sponda: new construction at the very centre of Helsinki. According to Rasmus Vuorinen, Vice President of Leasing & Commercial Properties, the building's ambitious designs will accommodate the users, environment, and cityscape.
"Signe will be one of downtown's most energy-efficient buildings with materials and usability designed according to the strictest quality standards. Our objective is a building made to stand the test of time as well as our century-old historic buildings with comfortable facilities, first-rate design, and new services that add to the appeal and vitality of the whole downtown area," says Vuorinen.
Unique urban landscapes
According to Vuorinen, businesses today favour large uninterrupted floors and impressive and dynamic spaces that support an equal corporate culture and rapidly evolving working methods while also contributing to a good employer brand.
Aside from the high quality and sustainable design of Signe, he sees the open spaces as a particular strength. The building will have more than 12,000 square metres of office space and more than 4,000 square metres of retail space in the city's most prominent location.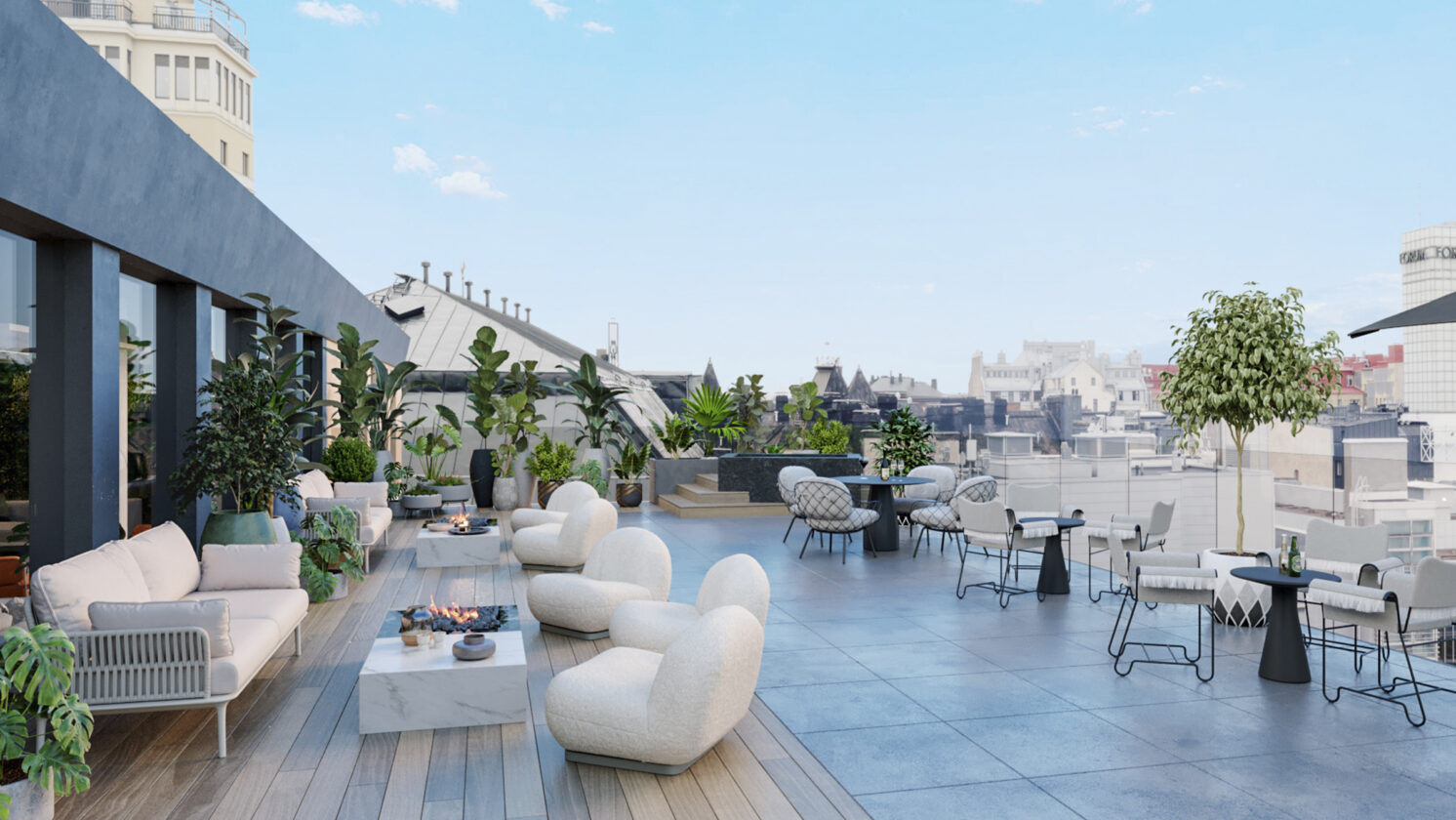 The office space can be divided into units of 1,000 or 2,000 square metres on a floor, and internal stairs can be used to combine spaces on different floors. Luxury features include large roof terraces and exceptionally unique urban landscapes.
"Forward-looking space solutions will act as a catalyst for change and activate users to come up with ideas, visions, and inspirational interactions," says Vuorinen.
Glass walls connect the lower floors directly to street life, offering splendid premises for flagship stores, showrooms, and restaurants.
Signe will draw together trailblazers and open the doors to innovation.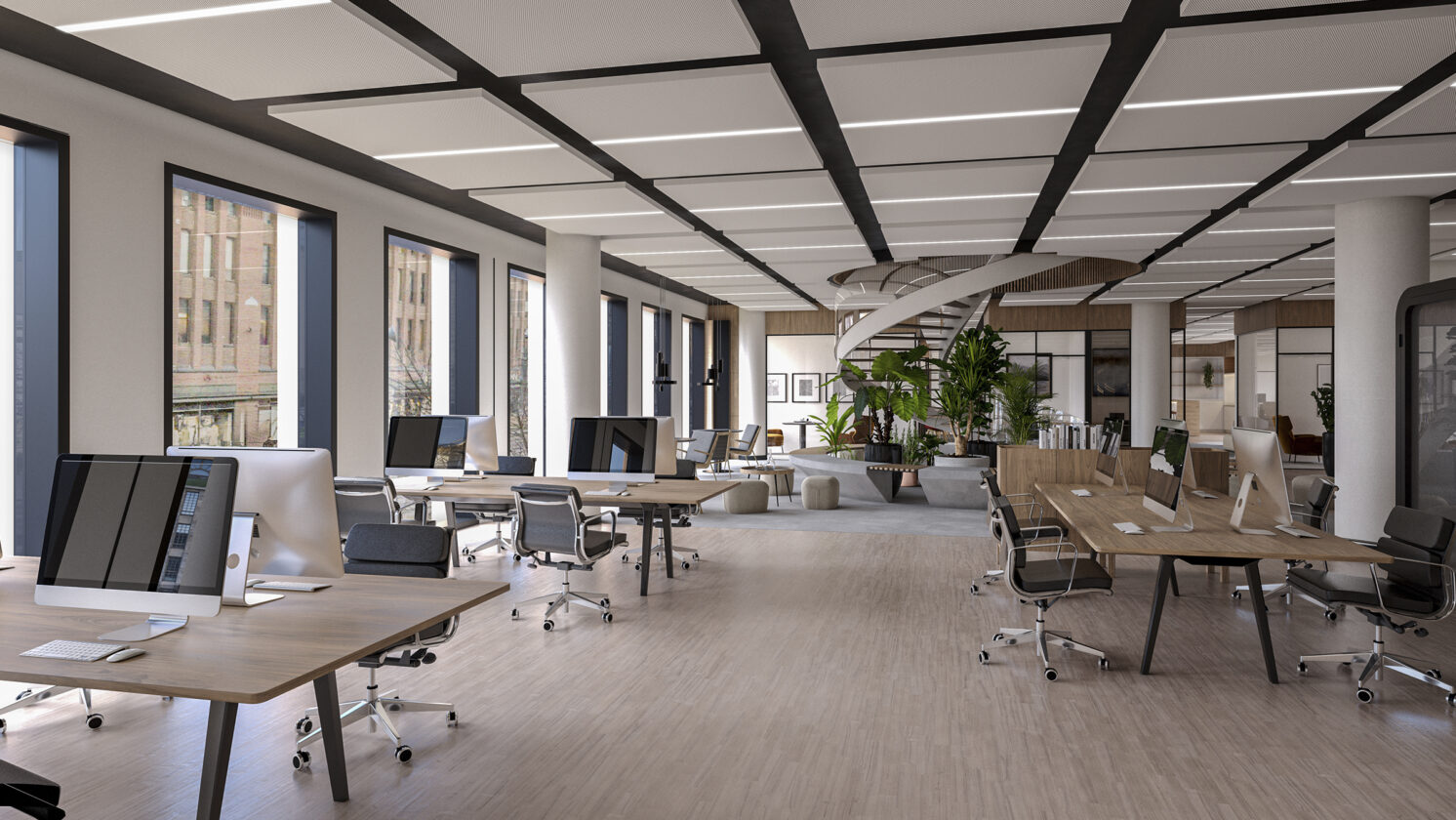 Well-being in every sense
The project's design is directed by SARC Architects. According to architect and partner Max Hartman, the new building will be designed around its unique location in the historical heart of the city.
"Signe's architectural solutions and indoor design will achieve the highest North European level of quality. The building will also use the latest technology and implement the highest standards of green building," says Hartman.
User well-being and indoor health and safety will be guaranteed by the WELL Gold certificate used to steer the design.
"The WELL criteria include requirements for above-standard building technology solutions, which the users can experience as superior acoustics, illumination, and indoor climate, as well as user safety, for example," says Hartman.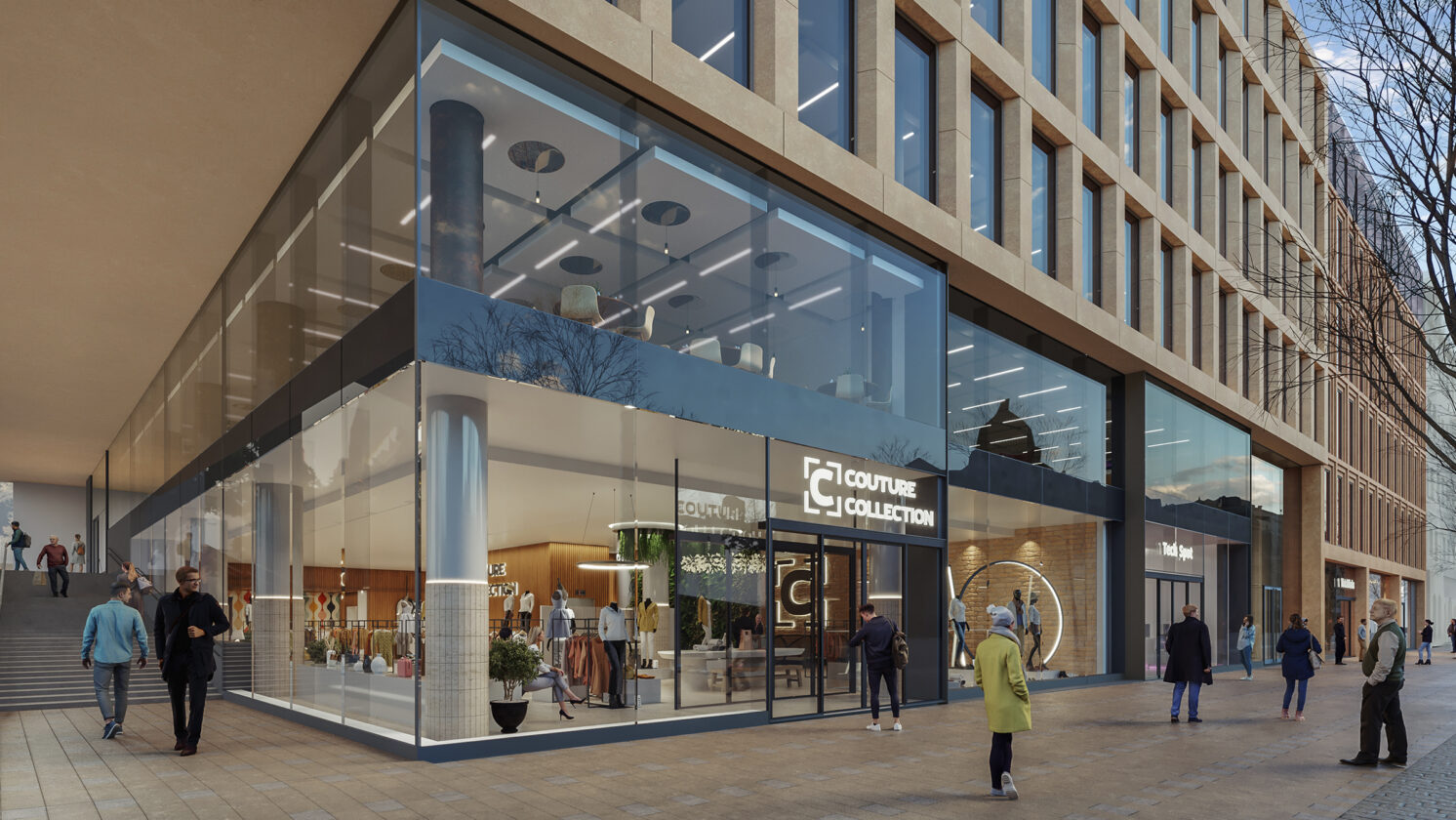 The building also features new smart energy solutions, including support for flexible electricity demand response and waste heat utilisation.
Biophilic factors have also been considered, according to Hartman. The spaces aim to maximise open views and natural light, beneficial to our natural rhythm, and they will also include greenery and acoustic solutions for improved well-being. Both retail and office spaces will feature floor-to-ceiling windows.
The building's central location encourages sustainable mobility and ensures excellent local services for the users.
"This property features the best public transport connections and local services Finland has to offer," says Hartman.
A new link in the chain of high-value buildings
The building's quality is further improved by its materials. The facade features a high-quality palette of materials – natural stone, copper, and glass – that reproduces the hues and structures of its historic neighbours.
"The facade must also appeal to the aesthetics of future generations, so we chose timeless, maintenance-free materials that age beautifully. The building's architecture blends seamlessly with the surrounding historic buildings while being the most sustainable and highest quality downtown building of its time," says Hartman.
The construction project's carbon emissions will be kept as low as possible – as much as 99 per cent of the demolition waste will be recycled. Investigations are underway to see if the Finnish granite from the demolished building's facade could be used as flooring or other surface materials in the new building. High-quality materials will be used in the interiors of the retail and office spaces, but the look will be left as simple as possible to allow tenants to finish the surfaces as they please.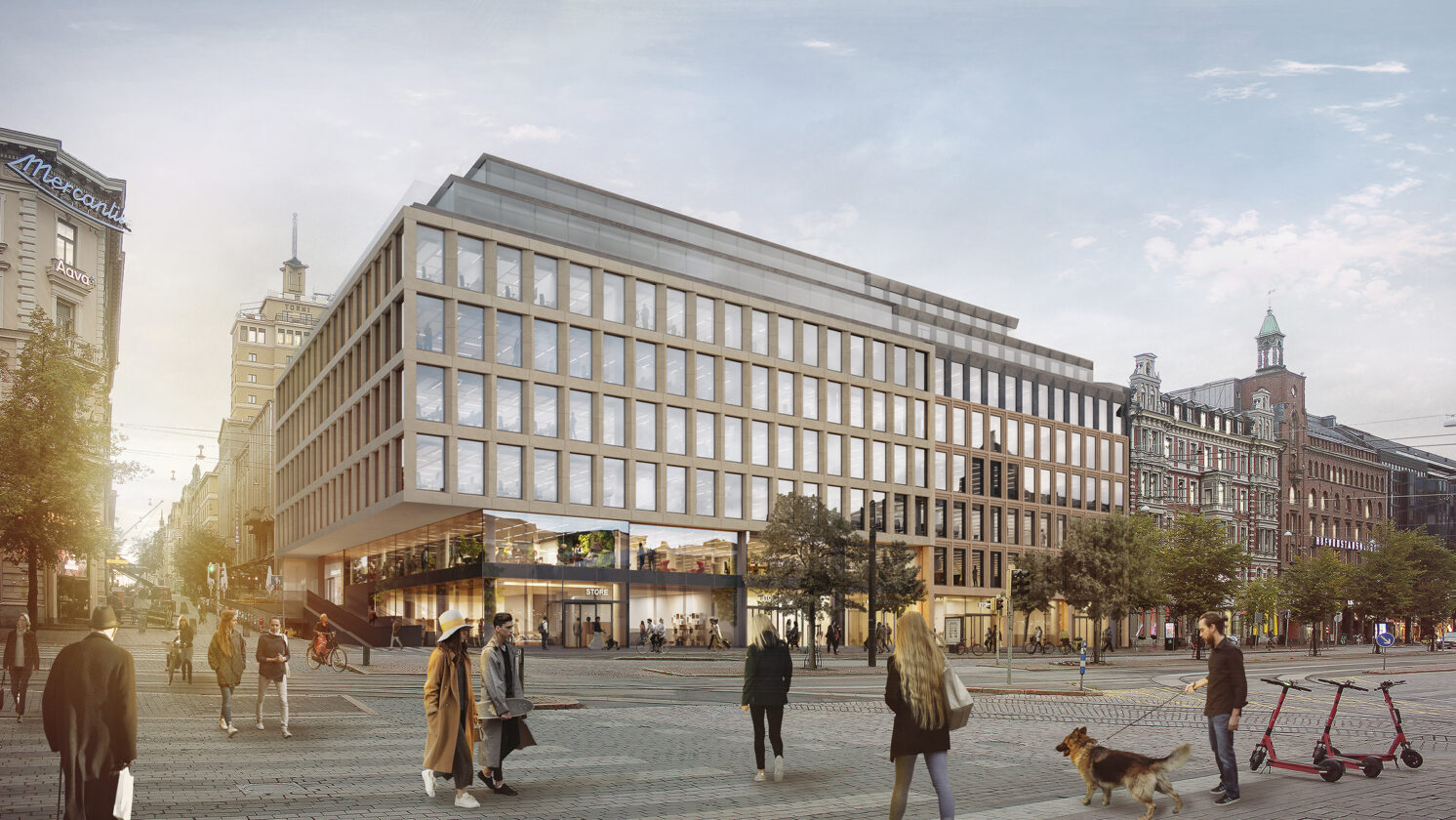 Maximum flexibility
One pull factor of the building is its structural flexibility, transformability, which ensures a long service life and maximum usability with the exacting sustainability criteria. The foundation of the transformability is the spacious concrete frame with high floor/ceiling height where lifts, stairs and pillars can be placed without restricting space divisions and sizes.
This building offers the perfect setting for building an experiential and communal workplace culture.
"The property features moving wall and space modules, and its building technology is routed in the ceiling and the floor, making it quick and easy to create and remove different types of spaces. Power points can also be relocated flexibly," Hartman says.
The building's service ducts and conduits will be oversized to allow the occupancy limits of both meeting and social spaces to be adjusted flexibly on demand.
In practice, the building's designs will allow comprehensive changes to the spaces without a need for structural modifications or extensive demolition work. The property's purpose of use will also be easy to change in future if allowed by the city plan.
First-class brand visibility
"Signe combines a first-class location with pioneering sustainability and ultramodern space design. Its spaces allow companies to move to the leading edge of development and brand themselves as the trailblazers of their industry," says Vuorinen.