PwC signs lease at Sponda project Signe ahead of work commencing 
Sponda Ltd
Press release
17 October 2023, at 7.00 a.m.
PwC signs lease at Sponda project Signe ahead of work commencing
PwC has committed to office space at Signe – a new high-quality commercial property being developed by Sponda – for its Helsinki office.
The building, located in Helsinki city centre, is now almost 50% leased ahead of construction beginning.
Signe will replace the existing Mannerheimintie 14 building and is expected to complete in 2026.
Signe is targeting best-in-class sustainability credentials including LEED Platinum, EPC A and Gold-level WELL certification.
Sponda, one of Finland's leading real estate asset management companies, has signed a lease with PwC for premium office space at Signe, its newest development in Helsinki city centre. A high-quality commercial building representing the highest standards in sustainable construction, Signe will replace the existing Mannerheimintie 14 building, which is nearing the end of its lifecycle.
The agreement with PwC means Signe is already approximately 50% pre-leased ahead of works beginning. The new property has been designed with state-of-the-art facilities and the use of sustainable materials, helping to achieve more efficient energy consumption. Flexibility and the well-being of occupants will also play a central role in its design. Construction work on the new project will begin in November 2023 and completion is expected by the end of 2026.

The incoming anchor tenant, PwC, chose Signe as its new Helsinki home due to its central location, exceptional sustainability credentials and modern design. The office has been designed to accommodate the diverse work needs of PwC's employees, with the building's comfortable and inspiring work environments aiming to promote creativity and productivity while also offering space for concentration.
"We wanted to find office space that not only meets our very high sustainability and energy efficiency criteria but also our quality requirements. Versatile, flexible and high-quality office solutions, easy accessibility, and the diversity of nearby services are essential factors for us, both for the well-being of our staff and for our future recruitment efforts. We believe that a central location is also an advantage for our customers. We are truly excited that Signe offers all of this in the best location in the city," says PwC's CEO, Kauko Storbacka.
"We are excited to welcome PwC as Signe's anchor client, with their commitment signalling confidence in the city's attractiveness as a place for businesses to thrive. Across our portfolio, we are seeing strong demand from companies, like PwC, who want to invest in the quality, sustainability and location of their office premises and provide their employees with attractive and comfortable working environments that support in-person collaboration and strengthen company culture." Sponda's CEO Christian Hohenthal says.
Signe is being developed with a focus on sustainability and the highest quality standards
Signe marks a major investment in the development of Helsinki city centre, which is seeing growing demand for high-quality offices and commercial spaces. As part of the development, the corner of Mannerheimintie and Kalevankatu will be integrated into the urban landscape, as the new building's facade aligns with the height and flow of neighbouring buildings, and an open and higher ground floor will include retail and restaurant spaces.
Signe has been designed to have the lowest possible carbon footprint throughout its lifecycle. Its square meter-based material emissions (kgCO2e/n-m2) are 31% lower compared to standard office construction. When demolishing the current building, the demolition materials will also be recycled or reused to generate minimal landfill waste.
"Helsinki must be developed sustainably and continuously to meet the changing needs of those who work, live, and visit here. This development requires collaboration between property owners, the city, and local businesses, which is something that Sponda is strongly committed to. As property owners, we want to support the revitalization and development of the city centre by bringing well-known, attractive brands and operators to our properties, as well as activities that enliven the city. We recognize significant potential in this field and are constantly working on the development of our properties in the city centre," Hohenthal says.
Signe will be one of the most energy-efficient buildings in the heart of the city and will aim for the highest sustainability credentials including LEED Platinum-level environmental certification, EPC A energy rating and Gold-level WELL certification, which is credited to buildings that support employee wellbeing.
Sponda is a Blackstone portfolio company, the world's largest alternative asset manager. In the past six years, Blackstone has invested continuously in the development of new properties in Finland, primarily in the Helsinki area, through Sponda.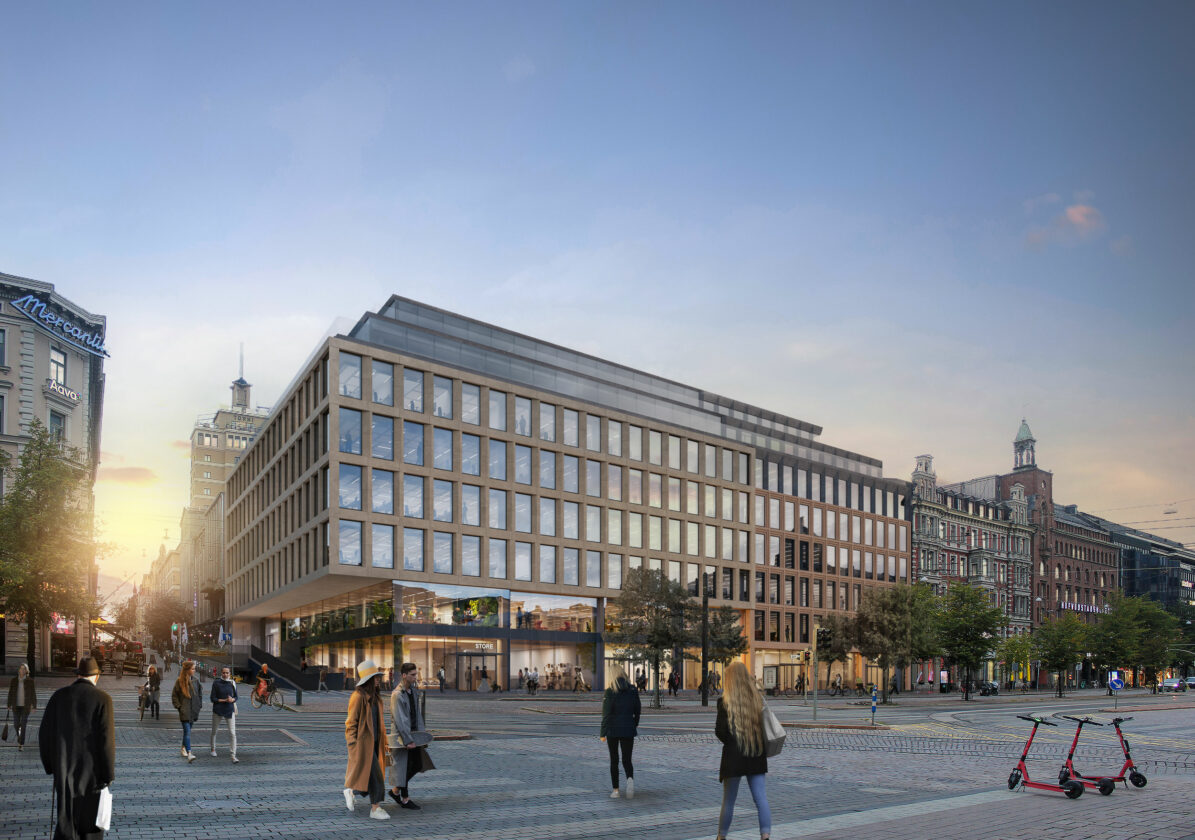 Sponda Ltd
Further information:
Anita Riikonen, Brand and Communications Manager
tel. +358 40 833 3804, anita.riikonen@sponda.fi
Sponda Ltd is a leading real estate asset management company in Finland specialising in owning, managing, developing and letting commercial properties in the largest cities across the country. With a focus on customer-oriented solutions and high-quality properties, Sponda is actively developing best practice in the sector, enhancing the cityscape in a sustainable way and supporting its customers. www.sponda.fi/en.